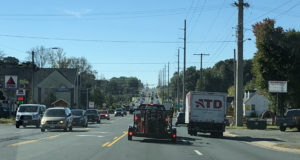 Active Prince William board member Allen Muchnick, a City of Manassas resident, sent the following message to the Manassas City Council on November 29, 2020.
---
Dear Mayor Parrish and Manassas City Council Members:
I'm writing to comment on Mr. Pate's draft "Legislative Priorities – 2021" document, which I don't believe has yet been available for public comment or officially adopted by City Council.
In particular, under the rubric "Transformative Mobility", the document calls for "improvements to VA-28 corridor in the VDOT Six-Year Improvement Program including construction of the VA-28 Manassas Bypass…"   Oddly, the Route 28 Bypass is the only transportation project mentioned in this document.
Supporting the Route 28 Bypass in this document is pointless and ill advised.  The reference to this Bypass should be stricken for the following reasons:
1)  Not Transformative.  The proposed Route 28 Bypass does not represent "transformative mobility".  Rather, this counterproductive and destructive project would merely perpetuate the decades-long, repeatedly failed practice of expanding limited-access highways in urbanized areas for toll-free travel in single-occupant vehicles.  The Bypass would induce new vehicle trips and auto-dependent sprawl development, thereby perpetuating car-dependency and traffic ongestion, while failing to effectively promote more efficient and equitable multiple-occupant travel (i.e. public transportation and/or ridesharing) or revitalize the aging communities along the Route 28 corridor, including Mathis Avenue, with transit-oriented redevelopment.
Motorists living west or south of Manassas already have a western Manassas bypass along Route 234.   Why do those same motorists now need a second western Manassas bypass along Route 28?  Fairfax and Prince William Counties are planning to at least double the number of unmanaged travel lanes throughout the Route 28 corridor between Route 234 and I-66.   How does that doubling of motor vehicle capacity help Northern Virginia meet the greenhouse gas reduction targets (50% below the 2005 level by 2030 and 80% below the 2005 level by 2050) that the MWCOG Board and the TPB have both adopted?
2)  Missed Opportunities.  As a railroad town served by VRE and Amtrak , Manassas should instead champion funding and cooperative agreements to improve VRE, Amtrak, and OmniRide service, more state and federal funds for pedestrian retrofits, and statutory changes (e.g., automated speed cameras, local authority for sub-25 MPH speed limits) needed to make Manassas more safely walkable.
3)  This Funding Request is Unnecessary and Inappropriate.  The Route 28 Bypass, estimated to cost $300 million, is already fully funded for completion, with an $89 million NVTA allocation plus $200 million from the 2019 Prince William County Transportation Bond Referendum.   Furthermore, since Prince William County has opted to abandon the federal Environmental Assessment for this project, the Bypass has become ineligible to receive federal or VDOT funds.  Finally, a state or federal carve-out or earmark for this project would undermine recent progress by the CTB (with SMART SCALE) and NVTA in funding transportation projects competitively, based on objective evaluations that prioritize cost effectiveness at reducing traffic congestion.
4)  This Funding Request is Premature and Misplaced.   When preliminary engineering for the Route 28 Bypass project is completed, no earlier than fall 2022, Prince William County will apply for a Clean Water Act Section 404 wetlands construction permit from the U.S. Army Corps of Engineers.   Until that permit is granted and the Virginia Department of Environmental Quality also signs off on this project, any further funding for the Bypass project is premature.  Meanwhile, the Centreville Road (Route 28) STARS Safety and Operational Improvements Study, championed by Delegate Roem, has recommended a modest $38 million package of intersection, raised median, and pedestrian improvements to Route 28 itself that would clearly benefit  Manassas residents, yet this package still awaits an allocation of funds, possibly from SMART SCALE.
5)  This Bypass Would Not Benefit Manassas or Manassas Motorists Significantly.  Bypass proponents claim that the Bypass would reduce traffic congestion for Route 28 auto commuters and would lower traffic volumes in downtown Manassas.  Neither claim, however, is substantiated by the May 2019 Traffic Technical Report conducted for the Route 28 Corridor Environmental Assessment.   Table 3.1.1 on page 23 of this document shows that building the Bypass would increase traffic volumes in 2040 along Centreville Road segments (#s 19-22) north of the Bypass in Fairfax County by 16% to 26%, compared to the "No-Build" Alternative in 2040.  Meanwhile, traffic volumes on Center Street in downtown Manassas (e.g., from Grant Avenue to Zebedee Street, Segment #s 8 and 9) would grow from 23,230 ADT in 2018 to 28,845 to 35,332 ADT in 2040 if the Bypass is built.   At the same time, building the Bypass would roughly double the traffic in 2040 along Godwin Drive between Nokesville Road and Sudley Road, compared to the "No-Build" Alternative in 2040 (Segment #s 3-6 at the top of page 24), and generate failing intersections (LOS F during the PM peak) along Godwin Dr at Wellington and Sudley Roads (and probably elsewhere; Table 3.3.1 on page 40, intersection #s 16 and 17).  Thus, building this Bypass would necessitate several costly intersection expansions along Godwin Drive in Manassas, as well as the widening of Godwin Drive to six travel lanes between Nokesville Road and Sudley Road.
Sadly, the call to fund and build the Route 28 Bypass in this Legislative Priorities document reflects the lack of proactive and meaningful public involvement in discussing and setting transportation improvement priorities for the City of Manassas.  I hope the City Council will address this deficiency in 2021.
###