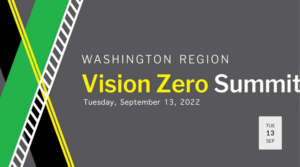 Update:  A summary of the Summit and archived videos of various presentations are posted on WABA's website.
Cross posted from the Washington Area Bicyclist Asssociation's Vision Zero Summit registration page and supplemented with program details from a WABA email.
2022 Washington Region Vision Zero Summit
Tuesday, September 13, 2022, 9:00 AM – 5:00 PM
Online and in-person
A Washington Area Bicyclist Association (WABA) Signature Event – Meetup
The Vision Zero Summit brings together elected officials, decision-makers, advocates, thought leaders, and the private sector to share best practices, insights and innovations to eliminate deaths and serious injuries on our region's streets and highways.
This year's Summit will take place on Tuesday, September 13th, and will focus on Safe Streets for All: A Safe System Approach.  The Safe System approach was founded on the principle that no one should be killed or injured when using the road system. It consists of five elements: Safe Road Users, Safe Vehicles, Safe Speeds, Safe Roads, and Post-Crash Care.
The Summit itself will take place over Zoom from 9 am to 5 pm.  The link will be sent out along with the programming closer to the date of the event.
Lunch is included in the cost of the ticket.  WABA will provide an Uber Eats promo code to all attendees.
The morning keynote speaker will be Jennifer Boyd, director of The Street Project, a documentary on the massive international movement to turn public streets into safe spaces for all.
The late afternoon keynote speaker will be Jessie Singer, journalist and author of There Are No Accidents: The Deadly Rise of Injury and Disaster – Who Profits and Who Pays the Price.
After the Summit, there will be an in-person meetup at Buena Vida Gastrolounge (2900 Wilson Blvd #103, Arlington, VA 22201), from 7pm to 8:30pm.  This gathering is an opportunity to revisit some of the day's key themes, socialize, and decompress.  The evening keynote speaker will be new WMATA General Manager Randy Clarke.  Space is limited, so be sure to sign up for this event when you register for the summit.  Free food and non-alcoholic drinks will be provided! We'd love to see you there!
ASL interpretation services will be provided for the Summit.
Please visit WABA's registration page to register for this Summit.