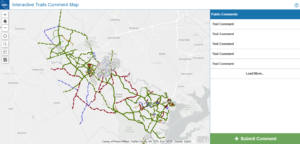 Prince William County government emailed the following public notice on November 24, 2021.  Active Prince William encourages all active mobility and trail advocates to carefully review this Interactive Trails Comment Map for omissions and deficiencies and to submit specific feedback using the built-in comment feature.
An interactive Trails Comment Map is now available as part of the Pathway to 2040 Comprehensive Plan Update to the Non-Motorized section of the Mobility Chapter.
The map is intended to gather comments about the future of the trail system and not about existing trail conditions or maintenance and facilities issues.
Please leave comments about where you think there should be a trail or where there is a gap in the trail and sidewalk system.
The Planning Office, Department of Transportation, and Department of Parks, Recreation, and Tourism would like as much feedback as possible regarding this topic so please pass this information along to as many people as you like.
Comments will be reviewed and considered for inclusion in the plan update. No identifiable information included in the Comment form will be shown on the map and will only be made available if a FOIA request is submitted.
Interactive Trails Comment Map